Life Size Jenga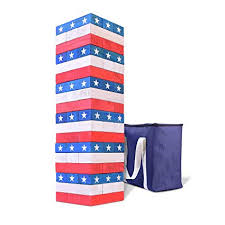 $49.00
Please call to reserve this item.

Description
Game night just got BETTER! Our Giant Jenga is an ideal addition to your backyard party, school or church lock-in, corporate event or family fun night. It can be played day or night. Comes with everything needed, glow-in-the-dark blocks, glow cube for set up, and black lights for night play.
Keep your guests engaged a for exhilarating game play like you've never experienced before!
Giant Jenga Rules
SET UP
The Giant Jenga tower consists of 53 wooden blocks.
Stack the Giant Jenga blocks next to each other, wide side down. Continue to build more stories alternating the block direction until you have used all the blocks
GAME PLAY
The player who set up the tower goes first, or if multiple people helped decide the order of play. This can be by age or whatever you like. Always moving to the next person left for play.
Any number of players can join in a game of tumble tower and it can also be played alone.
Using one hand at a time, remove one block from anywhere BELOW the two highest completed stories. You can touch blocks to find a loose one, but if you move a block out of place, you must fix it before touching another block.
Place your block on top of the tower. A three (3) block story must be completed before a higher one can be started. The tower must stand for ten (10) seconds after you have placed your block to end your turn.
Keep removing and stacking blocks until someone topples the tower. An expert can build a tower ninety (90) stories high....Just kidding, it's more like forty (40)!
WINNING
The last player to stack a block, without causing the tower to crash wins. The player who crashes the tower has to setup the next game.
ADDING DRAMA!
EXPANSION RULES (NOT so EASY) - Player that successfully pulls the color block chooses one of the options from that block color for the next person. For the first game move randomly draw an option.
BOOM
Pull a block out while your eyes are closed
Pull a block out and place it back into a new hole that's NOT on the top
Use your non-dominant hand to pull out a block
Pull a block out while your eyes are crossed
Pull 2 blocks out in one turn
BAM
Do 10 pushups just before you pull a block out
Do 10 jumping jacks before you pull a block out
Place one hand on the floor while you pull a block out with the other
Spin 5 times just before you pull a block out
Find a loose block with a toe or foot
KAZAM
Balance on one foot while you pull a block out
Truth or dare
Pull a block out in under 15 seconds from the time you touch a block
Dance a jig for 10 seconds before you pull a block out
Pull out a middle block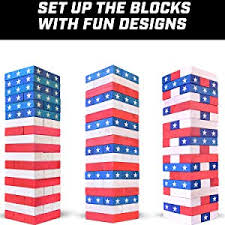 INVENTORY
54 blocks of fun
18 white
18 starry blue
18 red
Tower starts at 2. 5 feet tall and grows to over 5 feet during play - includes 54 giant blocks (18 rows). each block measures 7. 75 x 1. 5 x 2. 5 inches
Image for reference only.
Actual item may look different