Dry Slides
Inflatable Dry Slide Rentals
Inflatable Party Rentals in Abilene, Texas
Inflatable Dry Slide rentals are incredible attractions when used as the centerpiece of your event. Make big impressions and leave your guests having a great time! Expect hours of sliding and happy faces with these inflatable slides. We have different colors and designs to choose from. Some of the units can also be used both wet and dry.
Browse through the items and check unit dimensions to make sure you'll have room for your favorite inflatable slide rental unit. You can take note of the length, width, and most importantly the height. Let us know if you have clarifications. You can call us at 325-899-5550 or chat with us online if you need assistance.
Price is for up to a 4 hour rental with the latest time of pickup at 5:00 P.M. You can keep it longer for an additional $25 but it will still have to be picked up by 5:00 P.M. Want it after 5:00 P.M.? Schedule it for pickup the next day until 8:00 A.M. by hitting the next day button on your time selection page on the lower right of the times. Our system will charge you an additional $50 to keep it all night.
Double Slide DRY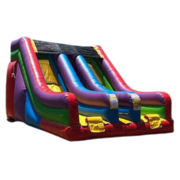 18 ft dual lane Dry Slide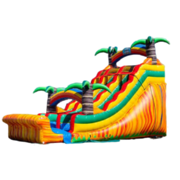 Rockin' Rapids 19-foot Slide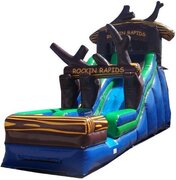 The Blue Wave (18-ft Slide) DRY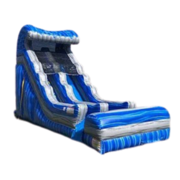 Delivery Area:
Jumps & Tents for Events
have been providing party rentals in the entire Big Country since 2018 delivering fun to home parties, school fairs, church, and/or corporate events. If you are looking for party rentals near Abilene, we got you covered!
For cities within 30-50 miles from Abilene like Baird, Bradshaw, Buffalo Gap, Caps, Cozart, Clyde, Eula, Fort Phantom Hill, Goldsboro, Hamby, Hawley, Impact, Merkel, Noodle, Oplin, Potosi, Stith, Trent, or Tye, Albany, Anson, Cisco, Cross Plains, Drasco, Ford Chadbourne, Hamlin, Lueders, Mitchell, Moran, McCaulley, Scranton, Shep, Stamford, and Sweetwater with a $40-$240 travel fee.